Does Windows 8 have you down because it's not doing what it's suppose to be doing? DON'T SMASH YOUR COMPUTER WITH A SLEDGEHAMMER (just yet :D)
First try a REFRESH:
1. Let's Restart the computer while holding the Shift key
2. Select Troubleshoot from the Windows Recovery Environment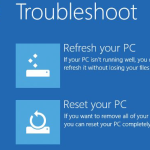 3. In the Troubleshoot section:
– choose Refresh your PC to give the system a fresh set of system files but retain your data.
– choose the Reset your PC option to perform a 'clean wipe' if you're selling it or just desire to start from scratch again.
4. Simple, right? I hope this helps you out. If not, sorry, we gave it our best shot. Time to break out that sledgehammer (just kidding of course)!